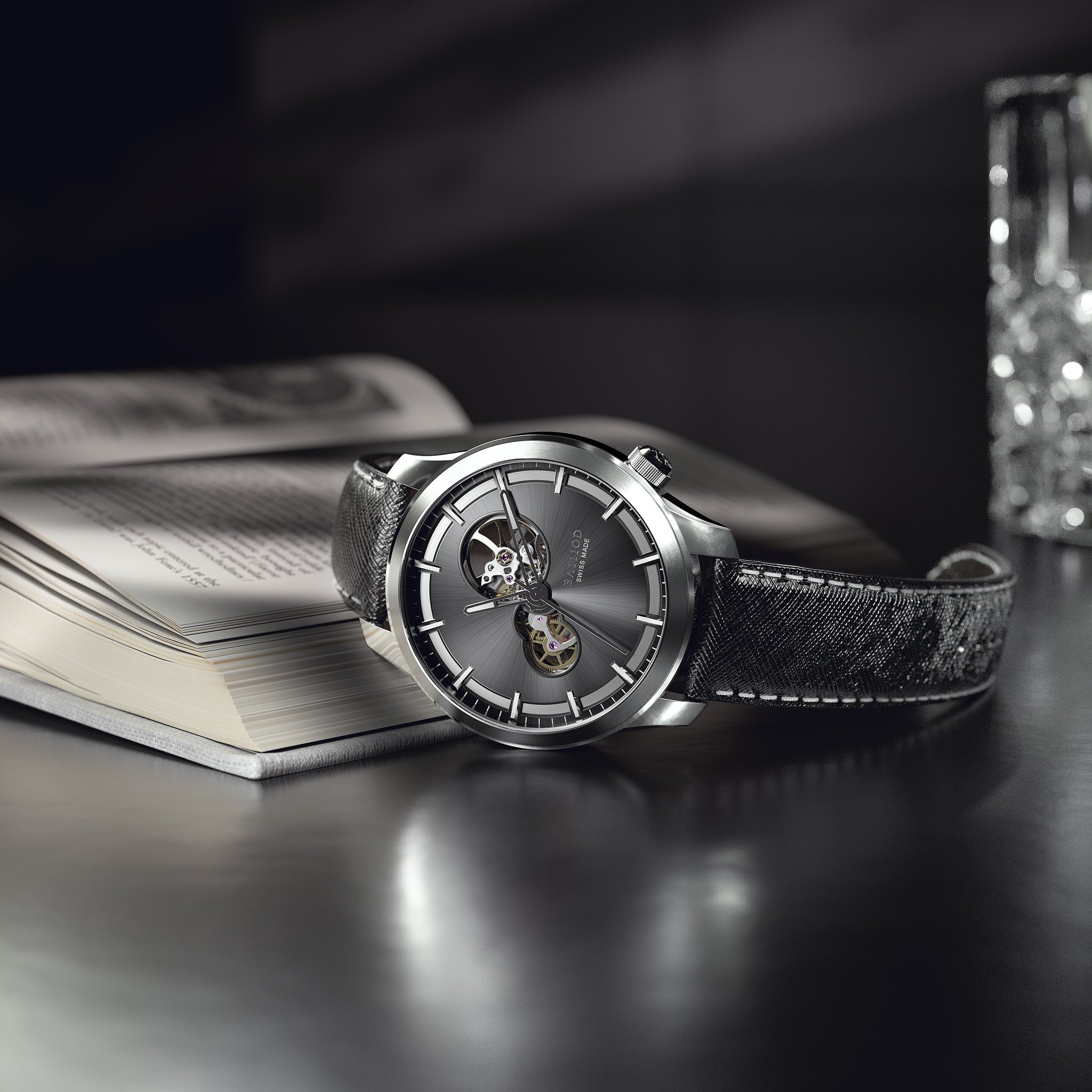 From the idea of a business model to the creation of a brand
BA111OD is the high-performance start-up that stands out in the traditional watchmaking landscape. At its head is Thomas Baillod, a vibrant entrepreneur from Neuchâtel, born and grown up in the watch valley. On his own, without any investors, he created the BA111OD concept at the end of 2019 and sold his first watches immediately thereafter. Since then, the concept had become a brand with exponential growth and acceptance within swiss watch market. This "swiss best kept secret" is now ready to conquer the wrists of watch lovers worldwide…
What is being done today to save the mid-range segment?
We are witnessing the increasing consolidation of a few brands cornering a majority of the industry's growth and directing it toward ultra-luxury. The pandemic has reinforced this trend, which could ultimately weaken the watchmaking sector, its jobs, and its expertise, like what happened during the quartz crisis. While he does not claim to be the only solution or to have a model applicable to all SMEs, the entrepreneur does develop certain ideas with powerful examples.
THOMAS BAILLOD
As a child, native of La Chaux-de-Fonds, he was confronted with the quartz crisis that hit the watchmaking metropolis particularly hard. After starting his professional career at Publicitas, the largest advertising agency in Switzerland and "a painful example of a company that did not know how to handle its digital transition,". Thomas Baillod then spent over fifteen years working for independent Swiss watch brands, developping worldwide distribution network. Through this international experiences, he came to realize that the current distribution model is outdated: "Most brands innovate their product while continuing to operate according to a traditional model when it comes to sell their watches – a model where customers are still considered 'end consumers' instead of being at the center. Brands do not know them and only engage with their customers through expensive marketing investments or paid ambassadors and influencers. In this model, customers turn to blogs for authentic information while official websites act as mere storefronts with photoshopped images."
Above all, in this model, production costs represent only a small fraction of the watch's price, while more than two-thirds of the price customers pay goes to financing the high distribution and marketing costs. Convinced that after marketing, the digital transformation will impact distribution, Thomas Baillod has explored a new way to optimize the current model and breathe new life into the mid-range segment. His new model call "we-commerce" is a true innovation that allows BA111OD to offer premium Swiss watchmaking at a price never seen before in the industry
AFLUENDORS - #SHARETHEPASSION
In October 2019, Thomas created a new watch concept, BA111OD, as a laboratory to test his innovative, customer-centric approach to distribution. Thanks to a revolutionary web app, the start-up has created a networked community of "Afluendors" (a contraction of "ambassadors, influencers, and vendors"), with whom it communicates on a daily basis. Everyone can express themselves through the platform, add content by posting photos and opinions on the watches, and network. After buying a BA111OD watch, Afluendors can also choose to recommend the brand to others and pass on the "right" to purchase available models, an option that comes with rewards.
THE FIRST CHAPTERS
Launched consecutively on an experimental basis via the LinkedIn network since late 2019, Chapters 1 and 2 served as a crash test to verify Baillod's approach. Impressive self-winding watches with a double oscillator that are designed and assembled in Switzerland but produced in Asia with reputable partners in the Swiss watch industry and sold for less than CHF 400! And it works. As the health crisis sweeps across Europe, as countries go into lockdown, and as sales plummet, Thomas Baillod's gamble has paid off. The first year saw more than 1,500 watches sold, mostly in French-speaking Switzerland. He reached his first one million in sales within 18 months. In the meantime, he hired his first colleague, quickly followed by others.
And he worked on developing Chapter 3, this time made in Switzerland. A self-winding model with an openworked dial and Geneva stripes decoration, priced at around CHF 500. It was met with immediate success. Above all, the ball was rolling. Thomas Baillod only wanted to prove his approach by launching a watch. Instead, he created a brand, supported by more and more Afluendors at his side, some of whom are from the watchmaking world themselves.
At first, his business model makes people chuckle. Then it makes them stop and think. It challenges the status quo. Some find it unsettling. But this insatiable entrepreneur doesn't care. He steadfastly pursues his idea with a very clear plan in mind, offering this access to high-quality aesthetic timepieces.
…And then came Chapter 4, equipped with a tourbillon, entirely made in Switzerland
On the second anniversary of BA111OD, on 10/11/2021 at 11:10 am, Thomas Baillod surprised everyone by announcing the creation of Chapter 4.1, The Veblen Dilemma*: an individually numbered tourbillon, entirely designed and made in Switzerland, that echoes certain Haute Horlogerie codes, namely its Grade 5 titanium case with an anthracite DLC coating and its mechanical manually wound movement with a 105-hour power reserve (> 4 days). But the approach remains true to the brand's strategy by limiting distribution costs: its tourbillon is offered through a subscription system to the first 50 purchasers at the insane launch price of less than CHF 4,000. Then keeping it at less than CHF 5,000 ex tax, whereas this complication is generally available at ten times that price.
The collaboration with the highly renowned watch designer Olivier Mory, who was responsible for creating the tourbillon – demonstrating in passing that it is possible to produce locally better, faster, and cheaper than elsewhere – as well as with artisans from the Jura Arc, consolidates the excellence of the project. The result? Better than expected sales! The first 50 pieces were sold in less than 24 hours, the 220 pieces of the first series in less than four months!
The resulting buzz earned Thomas Baillod numerous articles. Thus began the virtuous circle. Sales grew, providing BA111OD with a clear success as the start-up doubled its first one million in six months and exceeded a turnover of two million Swiss francs in January 2022.
And the story doesn't end here: The upcoming Chapter 4.1 tourbillon is the perfect combination between art and technology. A WORLD PREMIERE has even been announced on the subject…. Indeed, the Neuchâtel-based start-up is pioneering the integration of NFC technology into the crystal of its watch to offer a unique and tailor-made concierge service..
VILLA CASTELLANE
Based in Neuchâtel since the creation of his brand in 2019, Thomas Baillod has until now rented offices in the city center. The young company is writing a new page by moving into the Villa Castellane in August 2022. BA111OD will benefit from more spacious premises in the heart of this exceptional building, which houses several SMEs (Small and Medium-size Enterprise) and a restaurant. Between the magnificent woodwork and the enchanting park, this 19th century setting is a haven of conviviality and creation. It is an inspiring workspace for BA111OD's employees, who are working to expand the company and make it more widely known. Thomas Baillod says "the growth of BA111OD has led us to move from the status of a start-up to that of a watchmaking SME. What better symbol than to move into the Villa Castellane to reach this new milestone?"