JOIN THE AFLUENDOR COMMUNITY
WHY SHOULD I JOIN THE COMMUNITY?
Embrace the incredible perks of joining our extraordinary Community that will leave you amazed!
EXCLUSIVE EVENTS
Gain access to exclusive product launch, community and watchmaking events by being part of the Afluendor community!
REWARD TOKENS
Happy with your watch and keen to tell your friends? Earn tokens by recommending BA111OD watches. You can then use these tokens for watches and other exclusive rewards.
MERCHANDISE
Gain access to exclusive BA111OD merchandise articles such as beautiful leather goods. Only available via our Community App.
HOW DOES THE AFLUENDOR MODEL WORK?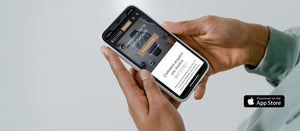 STEP 1
JOIN OUR COMMUNITY
Create your account on the Community App and share your passion for Swiss mechanical watches with other afluendors.
DESKTOP
DOWNLOAD APP

STEP 2
ACQUIRE A BA111OD WATCH
When you acquire a BA111OD watch via our Community App you will automatically open your own personal e-boutique with a limited number of selling rights.

STEP 3
RECOMMEND BA111OD WATCHES & RECEIVE TOKENS
Share your passion with your friends and on social media. Each time somebody buys a BA111OD watch from your personal e-boutique, you earn precious tokens!

STEP 4
REDEEM YOUR REWARDS
Choose your rewards from a selection of BA111OD watches and other exclusive merchandise and experiences.
Check out our FAQ if you have any questions!
A CUSTOMER-CENTRIC APPROACH
WE-COMMERCE
The brand's objective is to share a true passion for Swiss mechanical watches by making them accessible. This price positioning is made possible thanks to the unique economic model created by the founder of the brand: we-commerce, the community evolution of e-commerce putting the consumer at the center of the brand. Without any compromise on quality of course!
Just to clear things up, our system isn't like those Tupperware or pyramid schemes you might've heard about. In fact, those Multi-Level Marketing setups are off the table for us! We've got this unique Single Level Marketing style where we give a little shout-out (in the form of tokens) to our amazing Afluendors—that's a fun blend of Ambassador, inFLUENcer, and venDOR—if they feel like spreading the love about our brand. But hey, no pressure!
Feel like ordering from our site? Go right ahead! It's just like shopping from your favorite online store. And if you ever chat about us to your pals and they hop on board, we just want to give a small token of appreciation. It's like a virtual high-five for being awesome! And to keep things crystal clear, there's no chain of rewards if someone you introduce sells something. It keeps things simple and ensures everyone knows we're all about genuine connections, not pyramid schemes.
THANK YOU FOR BEING HERE!